This shop has been compensated by Collective Bias, Inc. and its advertiser. All opinions are mine alone. #MyLiteracyStory #DGMyStoryEntry #CollectiveBias
I rarely get a night to myself. You know- wife, mom of 3… those roles can be consuming. But every now and then the hubs will cart the kids off to a high school football game or grandparents want a weekend with my crew and I start making big plans for my precious hours alone. Reading a really great book is always at the top of my list!
I get it- that sounds completely boring to some but there is little I love more than escaping into a book. Whether it's a historical novel, mystery, behavior journal, or biography I find myself wrapped up in the story, soaking up new information, vocabulary, and knowledge. And passing on this love of literacy is one of the most valuable lessons I can give to my children.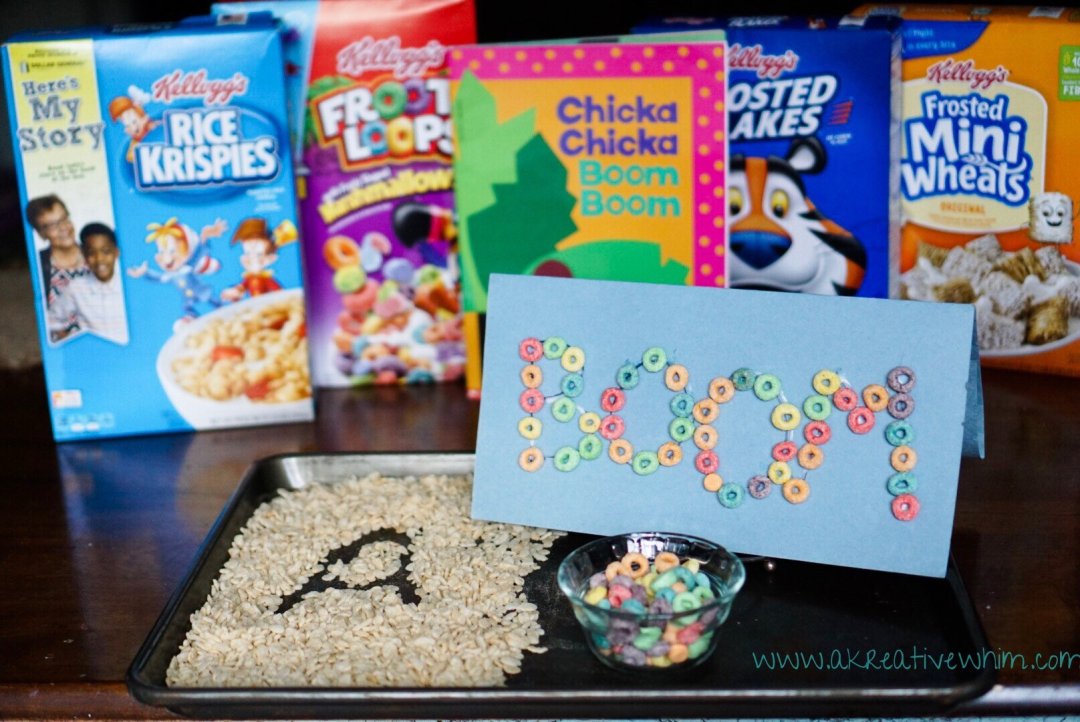 This is a shoppable image. If you hover above it a clickable link will appear.
Reading lays the foundation for infinite opportunities to gain knowledge! Give a child a book and the ability to read and she (or he) will LEARN independent of any outside educational opportunities.
So how do I pass on this love of literacy to my own kids? With literacy games! Today I am sharing a few of the literacy games we have used in my own home to lay a foundation for learning to read.
Literacy Games: KISS
The key here is KISS: Keep It Simple, Silly!
Literacy games do not have to be elaborate or be consuming for you (I know you have enough on your plate!!). I try to use items that are in my pantry or craft closet already and can be put together in 5 minutes or less.
Here are 4 examples of literacy games I use with the story Chicka Chicka Boom Boom Each of these games could be used independently of the story, as well.
SNAP! CRACKLE! READ!
One of the foundations of literacy is learning to recognize letters. Of course copying, tracing, and flashcards are only fun for so long but involving favorite snacks is always a great way to keep kids engaged in literacy games. SNAP! CRACKLE! SPELL! uses Rice Krispies® cereal as a canvas for writing letters and words. 
Pour Rice Krispies onto a cookie sheet.
Write a letter or sight word in Rice Krispies.
Have your child read the letter or word aloud.
Swap it up and have your child write a letter or word for you to read back to them! Use flashcards as visual cues to help with letter formation and spelling for new learners.
Froot Loop Spelling
This literacy game is exactly what it sounds like, spelling with Froot Loops®. I prefer to use words from the story and here I used the word BOOM!
BOOM! is an onomatopoeia. Onomatopoeia's are words that make their own sound (SPLAT! POW! SNAP! CRACKLE! POP!) and are always fun for kids to say.  
Write a letter or word in marker.

Have child trace the letter or word with glue.
Allow your child to "decorate" the word with Fruit Loops. Encourage starting on the left and moving right as you would when forming a letter or writing a word.
Allow your child to write out a vocabulary word, name, or letter and then trace it using Fruit Loops.
Loop the Letter
Creating interactive literacy games for stories you read with your children is another way to help kids engage with reading. This is one of the simple game I use with my kids to keep them engaged while reading Chicka! Chicka! Boom! Boom!
Print this Loop the Letter Free Printable by subscribing below.
As you read the book let your child "loop" the letters climbing up the coconut tree using Fruit Loops.

I have a thermal laminator at home and keep a laminated copy of Loop the Letter paper-clipped to the book so we can easily reuse it.
Paint Popping Letters
My kids LOOOOOOVE to spray water bottles. On everything. And anytime I can combine an activity they love with literacy I consider it a WIN!
For this literacy game I use colored water with Rice Krispies and letter magnets (foam letters would work great as well!)
Fill the cups of a cupcake pan with Rice Krispies.
Place a letter magnet on top of each cup of Rice Krispies.
Spray the Rice Krispies with colored water and listen to them pop! (This made a great rainy day activity for us. And the Rice Krispies sound like rain!)
Remove letter magnets to see the letter in your Rice Krispies.
Stir them up and do it again! (For more advanced readers try spelling words on the Rice Krispies and Paint Popping Words.)
Dollar General Literacy Initiative
Well friends, that's all I have today but before I go, I do want to share this really cool Literacy Initiative between Dollar General and Kellogg's.
Dollar General is only a few miles from our house and it's my go to shop when I need supplies in a hurry. The last time I dropped in to buy some cereal I noticed that Rice Krispies, Froot Loops, Frosted Flakes®, and Frosted Mini Wheats® all sported this "My Story" graphic on the box. Of course it piqued my interest and I grabbed all 4!
Each box features a story on the back about a person that is making a difference in the lives of children and adults through teaching and providing opportunities for literacy just like the Dollar General Literacy Foundation.
Dollar General Corporation has been delivering value to shoppers for over 75 years through its mission of Serving Others. The Dollar General Literacy Foundation is celebrating over 20 years of helping individuals learn to read, prepare for their high school equivalency, or learn English. Since its inception, the Foundation has awarded more than $140 million to nonprofit organizations and schools that have helped more than 9 million individuals advance their literacy and basic education skills. Kellogg's is a proud sponsor of the Dollar General Literacy Foundation. Every day, Kellogg employees work together to fulfillthe vision of enriching and delighting the world through foods and brands that matter. Kellogg's is committed to providing 3 billion Better Days through 2025 through initiatives that feed people and their potential.
How do you do literacy in your home? Dollar General is hosting a sweepstakes for a $50 Dollar General gift card. For more information on Dollar General's Literacy Initiative and to enter the #DGMyStory Sweepstakes you can visit this page.
Thanks for dropping in, and remember to PIN THIS for later!