This shop has been compensated by Collective Bias, Inc. and its advertiser. All opinions are mine alone. #ThinkOutsideTheWipe #CollectiveBias
We are headed to Ellijay at the end of the week to spend some time with my brothers and their families. If you haven't been, Ellijay is all about apples, apple orchards, and apple festivals. So I thought it would be fun to plan some apple art activities to get the Lees excited for our trip.
Apple Art Activities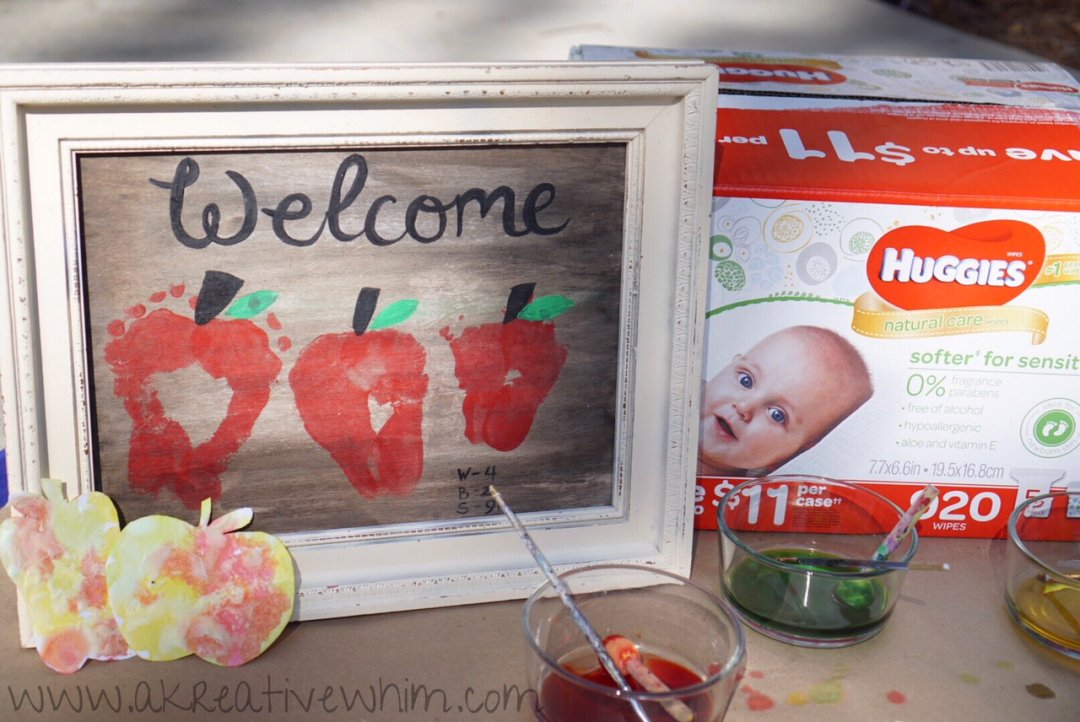 This is a shoppable link. Hover over the picture for more information!
Today I am sharing 2 of the apple art projects the Lees and I tried this week. One is a child-led, process art activity and the other is a mom-led frame-worthy craft (at least I think so). Both are a little messy but I keep Huggies® Natural Care® Wipes in every room and they are perfect for cleaning messy hands, faces, and even feet!

Sizzling Apple Art
A few months ago I shared a sensory activity my kids LOVE! Because they are so intrigued by it I decided to transfer the concept to an apple art activity.
Materials:
cardstock
scissors
baking soda
water
vinegar
food color (red, yellow, green)
paintbrushes
Process:
1. Cut your cardstock into apple shapes (I used a short, fat apple, and a tall skinnier apple).
2. Mix 2 tablespoons baking soda with 2 tablespoons of water to make a baking soda paint. 

3. Mix vinegar with a few drops of food coloring. I opted for red, yellow, and green since those are apple colors!
4. Have your kids paint their apples with the baking soda paint. 

5. Use a paintbrush to drip and splatter the colored vinegar mixture onto the apples. Your kids will love the sizzling reactions between the vinegar and baking soda. 
This Sizzling Apple Art activity is so fun for kids and the Lees could paint all day. BUT- the food coloring will leave some discoloration on their skin if they touch it (and my kids allllllwwwwaaaaayyyyyysssss do!). My 4 year old can't stand it and begs for a wipe each time she sets her paintbrush down because her "hands are just a tiny really dirty".
I prefer Huggies Natural Care Wipes for cleaning hands and faces as they are free of alcohol and harsh chemicals, and they are hypoallergenic for my sensitive-skinned 2 year old. All while removing 99% of germs!
Apple Footprint Welcome Sign
The cabin we use in Ellijay happens to belong to my in-laws and I wanted to make a fun little keepsake from the kids to leave behind on our trip. We decided to make this Apple Footprint Welcome Sign and the Lees thought it was hysterical to make apples from their feet!
Materials:
Wood
Stain of Choice
Red Paint
Black Paint
Green Paint
White Paint
Paintbrush/Sponge
Huggies Natural Care Wipes
Process:
1. I wanted a weathered and worn look for this project so I chose to work with wood. I started by white washing the wood.  

2. Once the whitewash is dry, paint the left foot red and place it firmly against the board.
3. Paint the right foot red and place the heel so it slightly overlaps the left heel print and the ball of right foot touches the edge of the left footprint.

4. Add your stem and leaves with a paintbrush.
5. Once paint has dried, use a brush to paint stain onto wood and wipe away immediately with a damp cloth. Repeat this step until you reach the desired look.
You can see from my example that I have a combination of apples with and without toes. I can't decide which way I prefer the apples so I just mixed it up a little.
The Messy Truth
I have a weird relationship with mess in my home. I loathe clutter! Supper cannot be started unless my counters are clean, I won't go to bed unless toys are picked up, and dishes left in my sink give me nightmares. But I have no problem dragging out paints, glitter, and glue and making a complete disaster getting creative with the Lees. Any other crafters have this problem?
So far we haven't had any major mishaps in our crafting adventures that permanently damaged any floors or furniture. But messes happen. Big ones. Small ones. And all the sizes in between. But sooner or later, you have to look at that mess and smile. So I embrace the mess (obviously) and keep a package of Huggies Natural Care Wipes on hand to mop up spills and wipe down tables and floors when we are finished. They are always a necessity in this home.
If you watched our video you probably noticed we use our wipes pretty liberally so I visit Sam's Club each month to stock up on new Huggies Natural Care Wipes and save big in the process. But if you are a Sam's Club Member with no time to shop, right now Sam's Club is offering free delivery on wipes! 
(Yes, I do buy 920 wipes each month. I have three kids under 4. We use every. single. one.) 
I'm so glad you joined me today. What fall traditions does your family have? We will be apple picking Saturday so I need your best apple recipes!